About Us
Mini Binz proudly provides the Niagara Region with simple, straightforward junk removal.

At Mini Binz, we don't believe you should pay a high price for high quality. That's why we offer premium service at a competitive price. To us, it's important to make great service more accessible.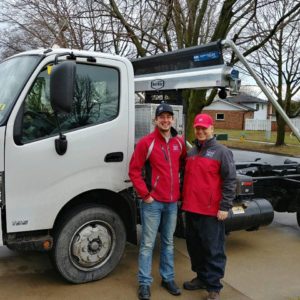 FAMILY-OPERATED, FRIENDLY SERVICE

We make great service possible by maintaining a local, family-operated business. Rather than dealing with a large and unfamiliar corporation, you can work with neighbours. That kind of atmosphere makes all the difference. No matter which member of our team you interact with, you'll be met with the same respectful attitude and friendly spirit. Working in that kind of environment

The choice is simple: if you need fast, first-class waste removal, call your friendly neighbourhood junk removal service. We'll drop off one of our signature red bins, and pick it up promptly when you're done. It's that easy!